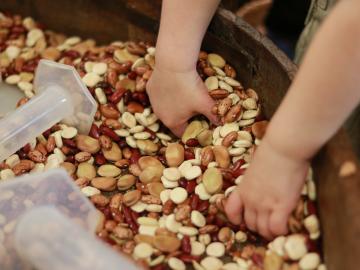 Hands-On Fun!
Wednesday, April 4, 2018
Introduce sensory activities for children with autism and you'll find other children will love them, too.
Socialising can be a daunting task for parents who have a child with autism spectrum disorder (ASD). But with careful planning, you can create a welcoming, exciting environment that will help these children engage in play at your playgroup.
---
View all
Categories
Craft (3)
Nature Play (6)
Reading and Storytelling (2)
Importance of Play (3)
PlayConnect (1)
Playgroup Benefits (8)
Dads (1)
Babies (5)
Preschoolers (3)
Coordinators (3)
Grandparents (1)
Music (1)

Archive
November, 2018 (2)
October, 2018 (1)
August, 2018 (1)
July, 2018 (1)
April, 2018 (2)
March, 2018 (2)
January, 2018 (2)
December, 2017 (1)
November, 2017 (3)
October, 2017 (2)
September, 2017 (2)
August, 2017 (2)
July, 2017 (2)