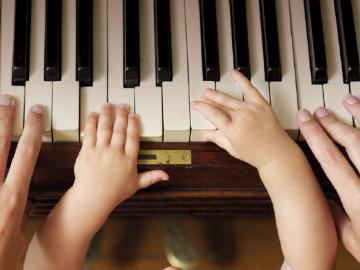 Let's Sing!
Wednesday, March 7, 2018
Share the joy of music for a magic learning experience.
When children listen to music, most find it impossible to sit still. They love to sing, make noise and dance along.
It's a great idea to include a regular music time at Playgroup, to help expose children to different kinds of music and boost their confidence in musical ability. This can work best at the end of a session, as a way of calming everyone down and creating a happy mood for home time. It's also a great opportunity for the parents and carers to share a happy experience with their child.
---
View all
Categories
Craft (3)
Nature Play (6)
Reading and Storytelling (2)
Importance of Play (3)
PlayConnect (1)
Playgroup Benefits (8)
Dads (1)
Babies (5)
Preschoolers (3)
Coordinators (3)
Grandparents (1)
Music (1)

Archive
November, 2018 (2)
October, 2018 (1)
August, 2018 (1)
July, 2018 (1)
April, 2018 (2)
March, 2018 (2)
January, 2018 (2)
December, 2017 (1)
November, 2017 (3)
October, 2017 (2)
September, 2017 (2)
August, 2017 (2)
July, 2017 (2)