Playgroups Positive Impact
Wednesday, July 26, 2017
Research shows Playgroups play an important role in children's development.
Much has been written about the importance of play for children's development. In fact, play is considered so important for childhood development that it has been recognised by the United Nations High Commission for Human Rights as a basic right of every child. In today's world however, we see children engaging in much less play with other children than previous generations. There are a number of reasons why we think this might be happening. Pressures on families are changing due to increased working hours, changes to neighbourhoods make it less inviting for children to meet and mingle, there is less available outdoor play space, there is an increased focus on early literacy and numeracy, and increases in passive entertainment through toys and entertainment devices for children are overwhelming.
In this changing landscape, Playgroups can provide safe places for children to play, and supportive environments - where parents can learn about the benefits of play as well as building a social network that supports them in their children's earliest years. Playgroups provide an opportunity for children to regularly engage in unstructured play with other children of a similar age and developmental stage, offering opportunities to develop their physical, emotional, social, and language skills. Playgroups also provide opportunities for parents and carers to socialise, learn parenting skills, and seek emotional support from one another.
Recent research by the Telethon Kids Institute - It takes a village to raise a child: the influence and impact of Playgroups across Australia, utilised information collected as part of the Australian Early Development Census (AEDC).
It showed that across Australia, around 36% of children attended Playgroups at some stage before starting school, and almost 60% of children in South Australia attended Playgroup. The AEDC is a national measure of children's development, that is collected every three years in the first year of children's fulltime schooling and it measures five key areas of development: physical health and wellbeing; social competence; emotional maturity; language and cognitive skills; communication skills and general knowledge. The AEDC also collects some information about what early childhood education and care services children participated in before they started school.
Using the AEDC data, researchers identified a clear benefit of attending Playgroup for children across Australia. Children who attended Playgroup in the year before starting school were almost twice as likely to start school with the skills they needed to cope with the social and learning challenges ahead of them. Importantly, the research found that Playgroups had a benefit for all children irrespective of their cultural and language background or where they lived.
The benefits of Playgroup were evident across all domains of child development: physical, social, emotional, language and cognitive development, and communication. Starting school with these foundational skills sets children in good stead for the transition to school, and provides a lifelong benefit. This research was the first to be able to demonstrate an association between attending Playgroups and improved child development outcomes.
There is still some work to do before we can say categorically, that Playgroups made the difference. For now, a spotlight has shone on the potential contribution Playgroups can make in supporting families with young children. As governments, service providers and researchers take stock of the evidence, work is taking shape around the country to identify the best way to promote healthy early environments where play is valued and encouraged.
Read the full research conducted by Telethon Kids Institute here.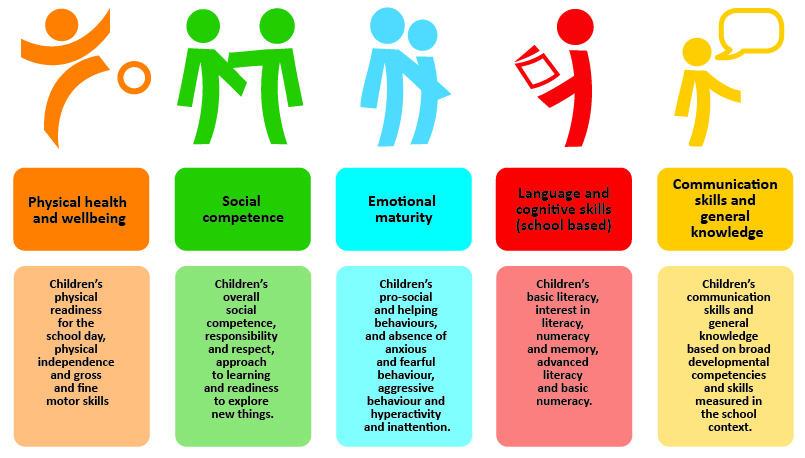 Five key areas of development - Telethon Kids Institute
By Yasmin Harman-Smith, Deputy Director Child Health, Development and Education, Telethon Kids Institute
This article was originally published in State of Play, Issue Two, September 2016