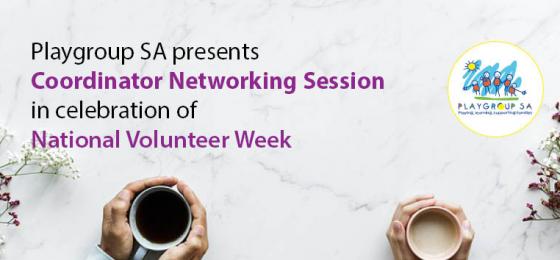 Volunteer Afternoon Tea
Wednesday, 22nd May, 2019, 1:00 PM – 3:00 PM

Wednesday 22nd May 2019
1 pm - 3pm
Playgroup SA Office
91 Prospect Rd
Prospect SA 5082
Do you volunteer with Playgroup SA? We want to thank you!
Playgroup SA would not be possible without your passion, hard work and dedication.
Please join us for afternoon tea to celebrate National Volunteer Week.
All Playgroup Coordinators and Volunteers welcome. We would love to see you all there.
All attendees receive a free gift bag!
---
Dream Big - Big Family Weekend
Saturday, 25th May, 2019, 9:00 AM – 5:00 PM
Sunday, 26th May, 2019, 9:00 AM – 5:00 PM

As a part of Dream Big Children's festival, Playgroup SA will be hosting a Sensory Play area!
It's all about exploring and experiencing the fun. Learn all about our world using your senses to explore, see, hear, smell and touch, and make a mess!
Big Family Weekend
25 & 26 May, 2019
North Terrace Cultural Boulevard, Adelaide

Dream Big Children's Festival
22 May - 1 June, 2019
Various events and locations around Adelaide
---