Playgroup SA has a large range of resources that can assist in improving your knowledge and your Playgroup! There are a number of resources available to download on this page to get you up-to-speed on all things Playgroup.
Can't find it on this website? Contact Playgroup SA on free call 1800 171 882 and if we don't have the resources you're looking for, we can work with you to tailor, develop and design what you're after.
Fact Sheets
Click on the Fact Sheets below to download in PDF format.
If you're a Playgroup SA Member, don't forget to check out our Members area for loads more fun and interactive Resources for Home and Playgroup.
Play Starters
Children learn through play. They find out about the world they live in, grow in confidence and learn how to get along with others.
The Play Starters book has been developed by Playgroup WA (Inc.) and has been tried and tested over time by many children, parents and carers throughout Australia. This A5 sized book is 57 pages long and jam packed with ideas for planning play experiences for young children that are low cost, easy to organise and involve the participation of adults and children together. It contains sections on Messy Play, Physical Play, Music and Movement, Let's Explore and Babies.
Play Starters is available for purchase from Playgroup SA head office for $5 + postage.
Sensory Recipe Cards
Playgroups receive eight Postcard sized Playgroup Recipes in their Starter Pack when Affiliating with Playgroup SA.
These recipes for low cost, quality Sensory Activities are available for download in the Members area of this website. They consist of recipes for Bubble Mix, Playdough, Slime, Ice Cube Paints, Crystal Salt Goop Paint, Microwave Puff Paints, Finger Paints and Gloop.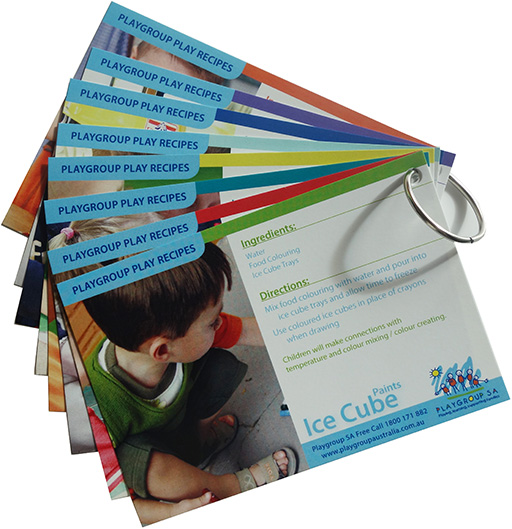 For Loan
Playgroup SA often has a range of resources for loan (term by term) for Affiliated Playgroups and Professional Members. If you're struggling to resource your Playgroup or you simply want to add variety to your Play Space by varying toys and equipment, phone us to see what we can offer.
Resources are available for pick up from our head office in Prospect, or we can deliver them to you on one of our Playgroup Support & Development visits.