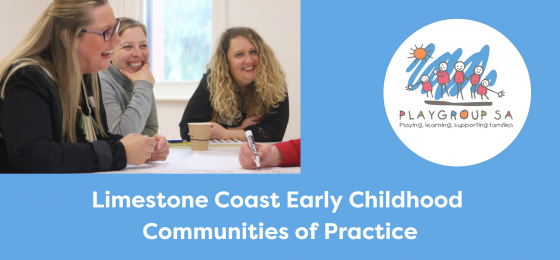 Limestone Coast Early Childhood Communities of Practice
Tuesday, 6th September, 2022, 10:00 AM – 2:00 PM

Playgroup SA recognises that facilitating Playgroups can be challenging and rewarding. We know there is a lot of experience out there, and to continue to grow the Playgroup movement and the importance of Play in the first 2,000 days - we see the establishment of the Limestone Coast Early Childhood Communities of Practice (CoP) as an opportunity for Community Playgroup leaders and other Early Childhood staff to share their knowledge and experience, and to provide opportunities for learning.
Multiple benefits exist for Playgroup Coordinators and other Early Childhood staff to learn and embed new ideas in their Playgroups and services each week, share any challenges and hear of ideas to address them. CoP provide an opportunity to give feedback to Playgroup SA about how we can improve the support we provide to community coordinators and members.
You can email any key discussion topics you would like to learn about prior to the CoP. Key parts of the discussion will be included as reflection points and sent to attendees after the meeting.
Community Playgroup Coordinators, Supported Playgroup Coordinators and families are welcome to come along to a CoP. This provides an opportunity for other parents/carers in the playgroup community who may like to start their own Playgroups. They can hear from the experts – you – about what is involved.
---
Cost per Playgroup Workshop (inc GST)
(EXCLUDING Safe Environments for Children & Young People Workshop)
Playgroup SA Members
$15
Playgroup SA Coordinators
Free
Playgroup Group Booking (minimum of 4 people)
$10 per person
Non-Members of Playgroup SA
$25
Enrolments / Enquiries
Playgroup SA 1800 171 882 or through completing the online 'Workshop Enrolment Form' with payment.
Bookings are essential to secure your place and payment is due strictly FIVE business days prior to the date of Playgroup Workshop.
No REFUNDS or CREDITS will be given without a minimum of five business days' notice.
Location (unless stated otherwise)
Playgroup SA Head Office
91 Prospect Road, Prospect SA
Playgroup SA can deliver workshops at locations such as community centres, kindergartens, schools and Playgroups.
To book, use the online booking and payment facility. Or free call 1800 171 882 to make a reservation or enquire about Playgroup SA delivering these workshops at your Playgroup.